Currently another powerful Atmospheric River is taking aim at the NorCal coast, and that water maker is inching southward toward Santa Cruz. We could see rain filling in as early as later this morning. This thing looks very wet on radar, so once it does take aim at us, we could be looking at rainfall amounts totaling up to two inches by night fall. It remains mild today at about 60F. The evening commute will be a challenge, so leave early if you can. If you are in need of an outdoor activity, go right now; this afternoon will be quite stormy. Southerly winds are gusting to 30mph along West Cliff Drive. Expect the San Lorenzo to swell again. Sandbars are being built. Cowells is back in, so once we get some fine weather, could be a fun beach.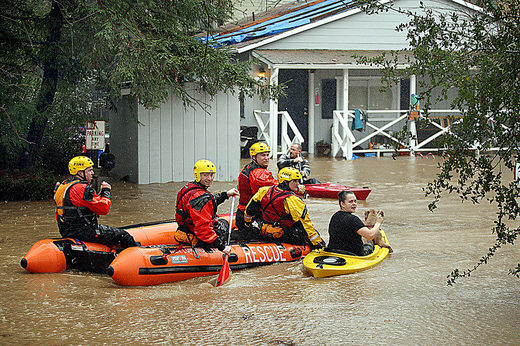 Rescue efforts in Felton. photo: Dan Coyro - SC Sentinel
Rain will be heavy this afternoon and evening, tapering a bit after bight fall. By the early morning hours on Friday, the AR will be well south of us, and we will only have some lingering showers. The morning commute will still be something to contend with, as that will be prime time for landslides to again close the road. A massive landslide near Surgarloaf is still blocking most of the north bound lanes, and is not expected to be cleared until at least Monday. Luckily we are going to see 5 or more days break in the rain. We can expect up to three inches here in town before the rain subsides tomorrow. More in the mountains. With some luck, this thing will move quickly and keep us below an inch of new water. We could use the break.
Friday begins with showers, and ends with maybe some misting. Cooler air moves in during the day with a cold front. Friday night, the starts will come out and temps will drop into the low 40s, after hanging in the mid 50s all week. It will feel crisp Saturday morning, but that sunshine will feel so nice. As it stands now, we can expect sunshine and fine warming weather through next Thursday. My hopes for hitting the 70s looks squashed, but we stil can expect mid to upper 60s through the middle of the work week. It is not much time to dry out before the next set of systems, but it is better than nothing.